Harco Metal Products, Inc. offers a complete range of dedicated contract manufacturing systems designed to process everything from simple components to complex assemblies, finished, packaged and ready to ship to your end user on-time and within your budget.
Additional programs, such as our Vendor Managed Inventory (VMI), are designed to enhance manufacturing contracts so that the burden of inventory is shifted to Harco and a true JIT program can be implemented so that 100% on-time delivery is realized.
With 56,000 sq. ft. of manufacturing space and an additional 12 acres of land available to build additional space, we can assist in the design of specialized work cells that increase throughput, increase efficiencies and reduce part and assembly costs.
As an ISO9001:2008 registered company, Harco takes quality very seriously. We have procedures in place that allow us to work with your team to design the best process required for identifying the best way to control, measure, automate and document critical and non-critical dimensions so that ultimately we drive your product towards 100% conformance.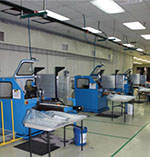 Contract Manufacturing Solutions By Harco Metal Products, Inc. Include:
• Reduction in Vendor Base
• Reduction in Fixed Costs and manufacturing Overhead
• Reduction in Production Costs & Supply Chain / Back Office Issues
Corporate Office • 7895 East Acoma Drive, Suite 101, Scottsdale, AZ 85260 • Tel 480.829.0450 • Fax 480.517.6929
Manufacturing Facility • 162 Jack Cooper Drive, Valley Head, AL 35989 • Tel 256.635.6700 • Fax 256.635.6710
"The Ultimate Goal... To help our customers create the lowest cost
possible without sacrificing quality, value or safety."
© Copyright 2014 - Harco Metal Products, Inc.